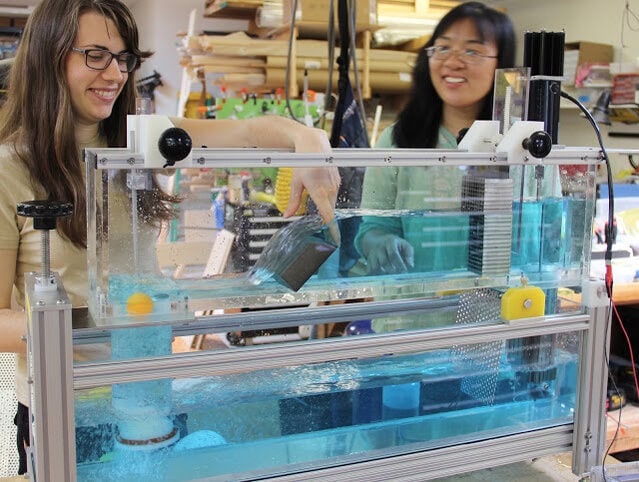 After four years of development, we're introducing the production model Emflume1 at ASEE in Atlanta.
The Emflume1 is a revolutionary flume system.   Small and portable.  To teach students in engineering, fisheries, and geology both theory and applied science of fluid mechanics and sediment transport.
The Emflume1 is a true desktop flume, with a dry weight of only 51 pounds (23 kg).
Its super efficient ducted prop design requires only 110 watts, and makes no noise at all.
You can talk, and teach, while this flume's running!
Edit:  Check out Matt Kuchta's high speed videos of the flume here!
The Emflume1 features:
–3.7 inch wide by 6.0 inch high by 14 inch long (95 x 152 x 356 mm) working area.
–Velocities to 1.1 m/s.  Water volume is 6.2 gallons (23 liters).
–Infinitely variable electronic flow control.
–Near zero maintenance, total reliability.
–All moving parts designed to allow pumping of plastic media.
–Tilt over 8 degrees; positive and negative.
–Instrumentation; including a velocimeter.
Our introductory price is US$9,980.00 for shipment within the USA.  Exports will cost more.
By September 2013  we'll have production running full tilt; until then we are happy to take your waiting list order.
We hope to see you at ASEE in Atlanta.  If not, we'll soon have much more on the Emflume1 at www.emriver.com.
Emflume evolution and R&D here.
See media circulation in the Emflume1's Grandfather prototype here.