A robust, modular geomorphological research system capable of simulating floodplains, deltas, groundwater processes, and sediment transport.
Em4
specifications
Dimensions

Box 3.7 m x 1.2 m (12 ft x 3.9 ft);

Model footprint 4.22 m x 1.27 m (166 in x 50 in)

Portability
Moveable, but not easily portable
Water
265 L (70 gal)
Media Amount
163 kg (360 lb)
Media Type
Color-coded
Base Options
Static, single, and dual-tilt
System Also Includes
Reservoirs, pump, power supply, flow controller. Modeling accessories: measuring tape, quartz and plastic stones and rocks, acrylic shapes to simulate culverts, plastic vegetation, dye injection bottles for visualizing flow, scoops, and scrapers. User and laboratory manual, river geomorphology DVD.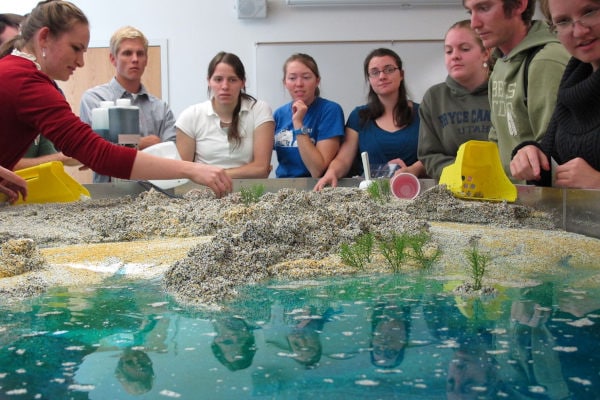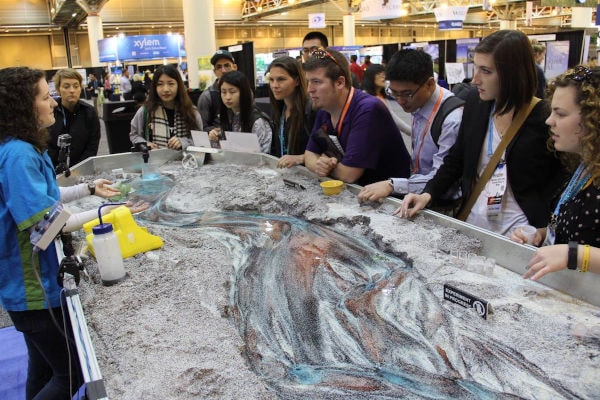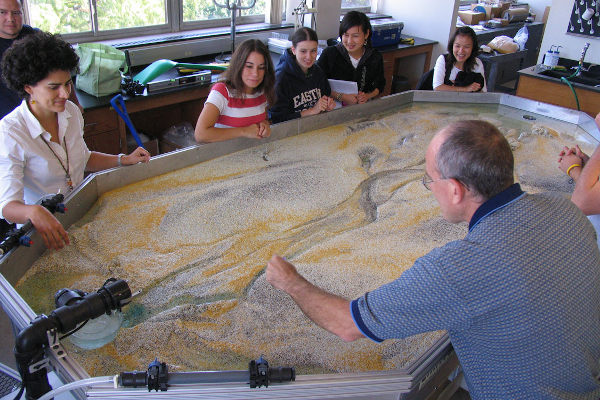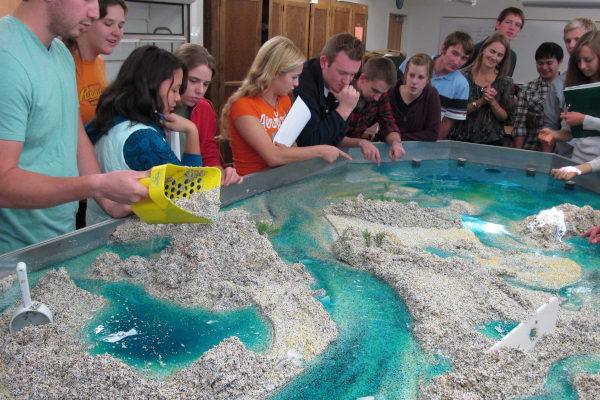 em4-stream-table-1-600x400
em4-stream-table-2-600x400
em4-stream-table-3-600x400
em4-stream-table-4-600x400
em4-stream-table-5-600x400
em4-stream-table-6-600x400
em4-stream-table-7-600x400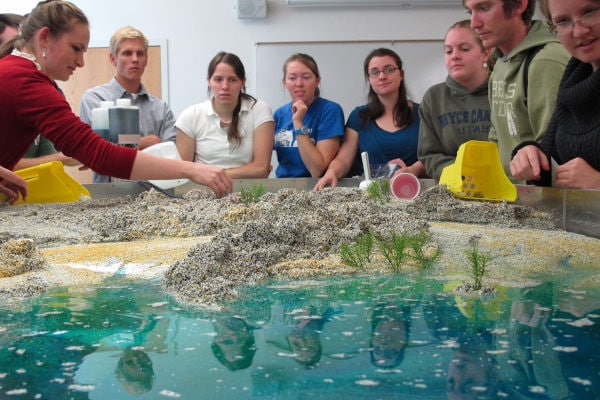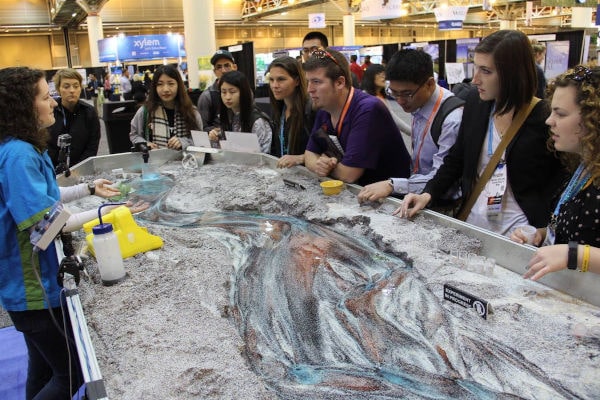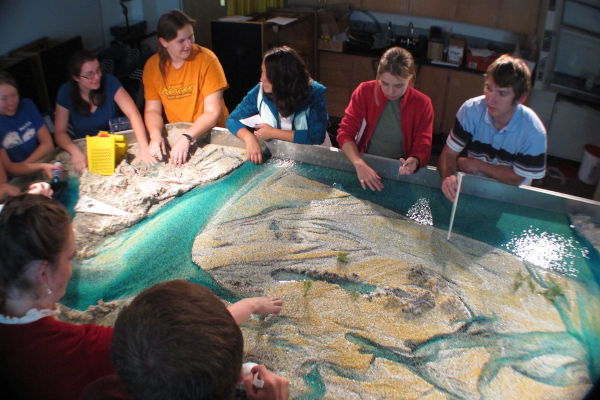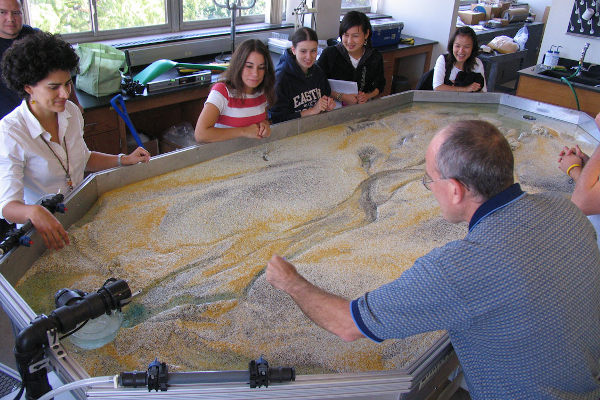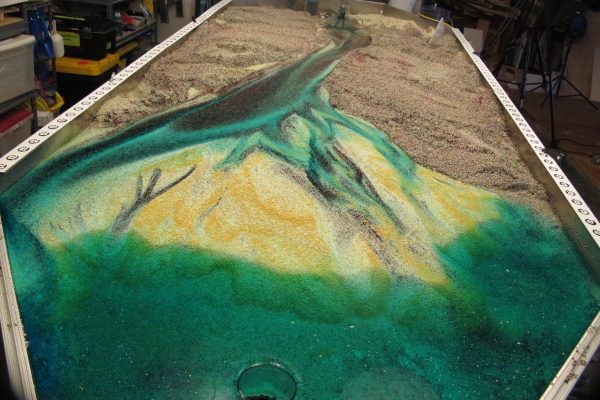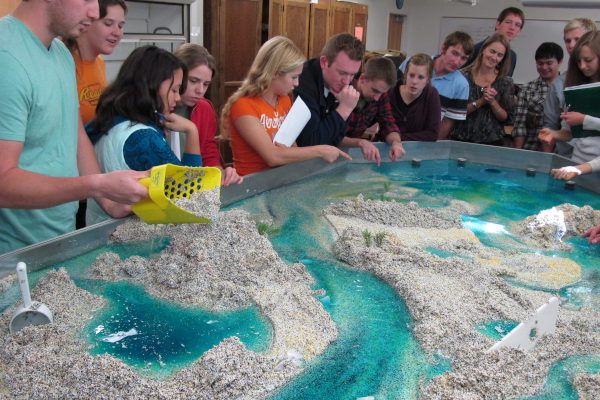 We had a great first class with our Em4. It was a hit with the students, best hydraulic lab by a mile. A couple of them thought it was coolest lab yet at GWU.
At twelve feet long, our Emriver Em4 river model is the largest production stream table on the market. If you want something bigger, it will have to be custom built! This model can be crated and shipped via common carrier or shipped internationally, but we often deliver, install, and provide training in the Continental U.S. The Em4 should have a dedicated teaching space or lab as it is on casters for positioning and leveling only. At 4 feet wide, it will go through standard doors only after being disassembled. This model is best suited to colleges and universities with ongoing research and teaching in river science. It is also an excellent option for dedicated museum and nature center displays. The very large size of the Em4 allows a whole class of 25 plus a teacher or facilitator to participate, with a second row of 20 observers. The Em4 stream table is as much a research tool as it is a teaching tool, and can be found in laboratories at major universities around the world as well as at research institutes and museums.
The scale of the Em4 allows for long-term experiments that develop mature river systems with parallel channels, multiple meanders, cut-offs, oxbows and islands, and has space for a large pool to build impressive deltas. The two reservoirs hold a total of 70 gallons of water, so the lab should ideally have a dedicated spigot and floor drain. There is a drain valve built into the upstream reservoir so the system may be quickly emptied. The standard static supports are engineered from high-strength aluminum and create a box slope of 3 degrees, but the vast majority of our clients opt for a single or dual-tilt base. 
The Em4 comes standard with 360 pounds of our color-coded by size thermoset plastic modeling media as described above.
The Em4 also comes standard with our K500 digital flow controller in addition to the standard K28 flow controller. The K500 allows precise, metered control of water flow using an Omega brand flow meter with closed loop monitoring and adjustment. The K500 displays momentary and requested flow in milliliters per second, total water volume since startup, and elapsed run time. The K500 also includes eight preprogrammed hydrographs to model common flood sequences.
We have been very happy with our Em4 model since the day it arrived at BYU. We use it in beginning and upper division-level classes in geological sciences and civil engineering. The model is diverse and representative enough of many different aspects of stream and delta systems that students of all levels are engaged.
We keep the table in a prominent location in the lab section of our building, and many students are intrigued and inspired by it and often spend time outside of their scheduled labs to work with the table.
The lower-density media makes the table a good analogue for sediment transport on other planetary bodies, and some students have approached research projects for courses or their MS theses using the stream table.
We are so happy to have the Em4 and feel it helps to elevate our department's educational and research profile. We recommend this product to anyone engaged in teaching or researching river processes.