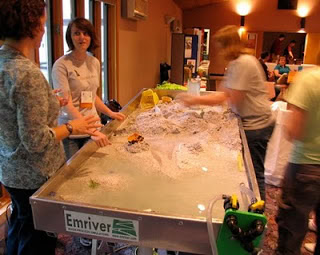 We've had a busy couple of weeks with our Emriver Em2.  First, Andrew Podoll, an NSF-funded geology/education GK-12 HEART fellow at SIUC, borrowed the Em2 for a student research event.  It was a huge hit with the kids, as you can see.
Yesterday I gave a talk to the Carbondale Garden Study Club.  As you can see, these women aren't youngsters.  I was quite surprised to see them dig in like a bunch of middle-schoolers, laughing, trying out different things, and asking a lot of questions about the model and how rivers worked.  This event was special to me because I'm sure this is the oldest group of laypeople I've ever worked with–there are usually a mix of ages at public events and the kids dominate river model experimentation.  Minus the kids, these women stepped up and had their hands in the model right away.
It's great to be a part of the community.  We didn't bill a dime for any of this.  I hope we soon get positive news on our proposals–these two weeks were a nice taste of what's possible.
Thanks to Andrew for the HEART event picture.