We're in full effect now on Em2 shipment; all the kinks are out and we hope to get a model to everybody on the waiting list by the end of November.  We hope the overseas shipments won't be far behind.
If you haven't been following, we've completely redesigned the Emriver Em2 and ran into some problems with our supplier of aluminum parts (they were simply overwhelmed with work).  This caused several weeks of delay.  And of course we were swamped with orders while this happened!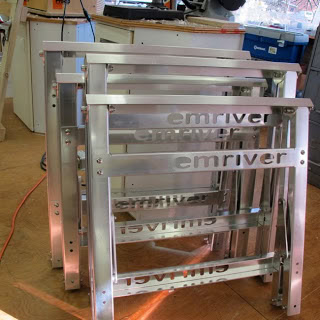 Designing and building a practical stream table is one thing.  Making it easily mass-buildable, reliable, safe, and easy to ship adds a lot of complexity.  Streamlining the building-to-shipping process isn't easy, but is essential if we're going to keep these models affordable.
Lily and Meriam have worked very hard on this.  We still have a lot to do with respect to inventory and shipping, but we're getting there.
We tried to ship Lily to California, but the UPS guy wouldn't take her.