After over three years of invaluable service, ecohydrologist Lily Hwang left Little River Research & Design last month to pursue a PhD in Environmental Engineering at the National Cheng Kung University in Tainan, Taiwan.We miss her so much already!
We know with her incredible smarts and dedication, she's going to do great things.
Lily's impact at LRRD has been huge — it's hard to even begin to describe the amazing work she did here.
A few things that come to mind:
• She spearheaded our local involvement in educational programs with the Emriver model.  She wrote a basic Emriver lesson plan and helped all of us hone our teaching skills.
• She volunteered her own time to teach kids in Southern Illinois about geoscience.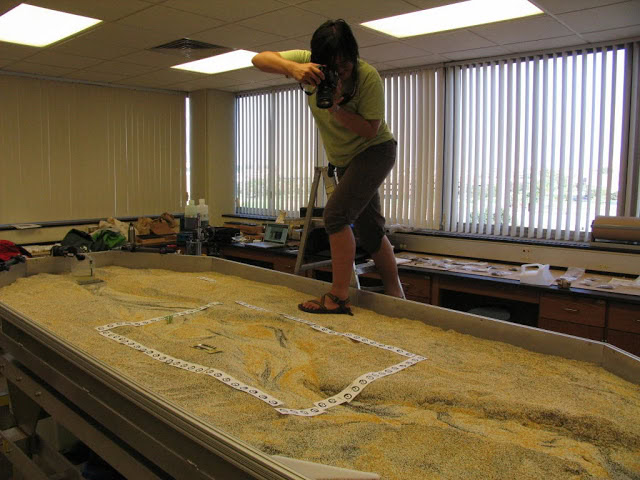 Lily photographs the inside of the Em4 at St. Louis University.
• She guided countless students in our lab.
Lily helps a Youth Conservation Corps member record data in the LRRD lab.
• She developed the artistic side of some of our geomodels' components.
Lily works on the text for the laser etching for our Emriver supports; a mockup is seen.
• She developed new and improved components for the Emriver Em2.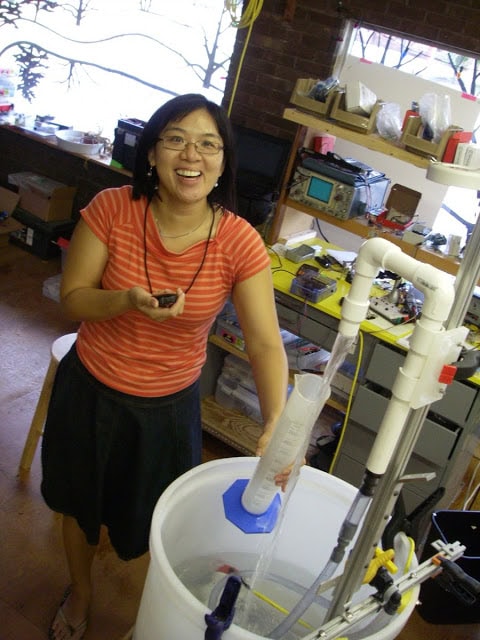 Lily tests a pump in the LRRD lab.
• She helped deliver dozens of Emriver models to teachers, researchers, students and advocacy groups all over the world.
• She made us smile.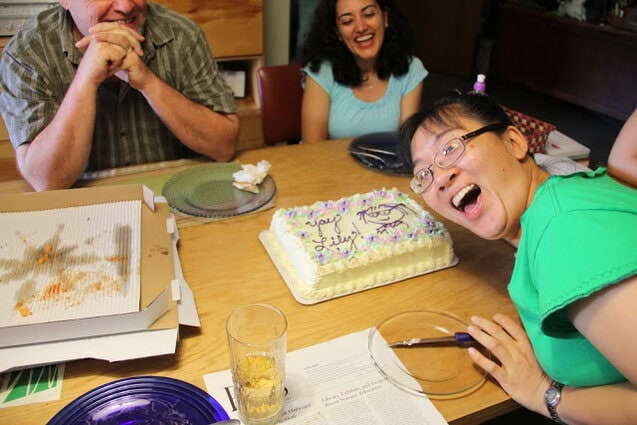 Lily goofs at her three-year anniversary celebration.
Here's the whole gang at her going-away party: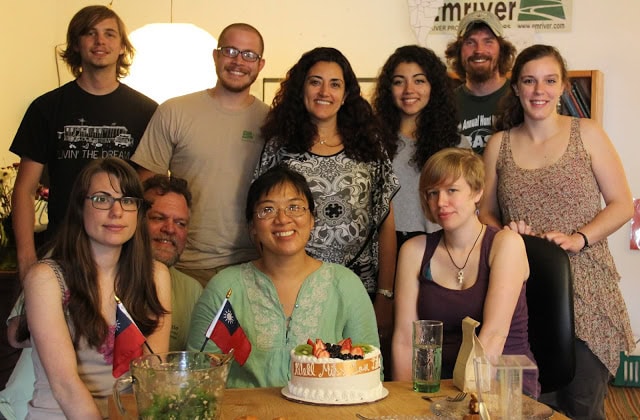 Top row, L-R: Jim Nation, JM Krahe (both Assistant Prototypers), Meriam Lahlou (Business Director) and her daughter, Radia (who helps around the shop in the summer), Nathan Speagle (Prototyper), Alee Quick (Creative Director).
Bottom row, L-R: Anna Durrett (Research Assistant), Steve Gough (Principal/Fluvial Geomorphologist), Lily Hwang (Ecohydrologist/Guest of Honor), Keisha Luhrsen (Administrative Assistant).
And here is a video Steve made to honor Lily on her two-year anniversary: