Accessory kits and items are designed to help achieve educational, outreach, and research goals. They are available with the purchase of an Emriver model.
Academic Kit
The Emriver Academic Kit can be used to conduct experiments such as surveying topography, including long profiles and channel cross-sections. The kit includes:
Emriver Crossbeam with Level Rod, to be used with a laser level; laser level not included
(see the Emriver manual for instructions on use)
2,000 ml graduated beaker
250 ml graduated cylinder
1,000 ml graduated cylinder
Stopwatch
Coarse-mesh hand sieve
Perforated scoop (with ¼-inch holes)
Hand-size scoop (not perforated)
---
Structures Kit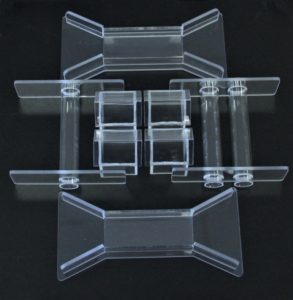 The Structures Kit allows users to explore the relationship between human-made structures and rivers. Includes:
2 Box culverts
1 Walled culvert
1 Double walled culvert
4 Model houses
Click here for information on how to use the Structures Kit.
---
Battery Adapter
Use the Em2 and Em3 models anywhere. Includes:
Battery adapter for a 12 V deep-cycle battery, instructions for use, and a 6-ft extension cord. Battery is not included. Read about battery recommendations on our blog.
Instructions for use with Crayfish and Alix Flow Controllers.
Instructions for use with K28 and K500 Flow Controllers.
---