We've been busy at LRRD the past few weeks, planning consulting jobs (we're mapping the Cache River this fall), conference travel, and finalizing the complete redesign of our Em2 model.
It seems every day brings an important decision (Do we spent ~$10K, at least, to go to AGU in San Francisco this fall?), we're doing and planning so much with a staff of three, and communicating with hundreds of clients and colleagues.
These busy days flash by. Photos photos from the last two remind me how lucky I am to work here.
Top photo: Tugi Papau helps us redesign of our website. Very exciting; the new one will be WordPress-based, super editable and dynamic.
Adam, Meriam's son, eats his lunch today–he's been coming by on his summer off now and then. Meriam's kids are wonderful and we love to have them around.
Besides English, Lily speaks Thai, and Chinese; Meriam is fluent in Italian, French, and Arabic; and on the whiteboard you can see Arrete de me harceler!! "Stop hassling me!" (Meriam, I can't make Blogger show le petite chapeau, I know it's mispelled.)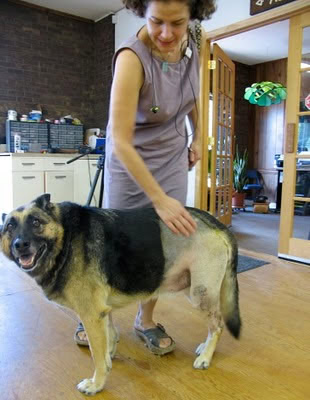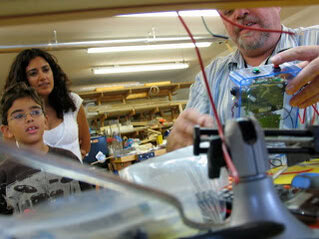 My wife Kate with our 10 year old German shepherd, JaJa (named after this guy). JaJa is joining me at work as he recovers from knee surgery.
And here's the near-final version of the new Em2 digital pump controller. It'll run hydrographs, send data to a laptop via USB, record run time for experiments, and be hackable and programmable by students.
I've been working on this with three collaborators day and night for a few weeks now.
And last, Meriam and Adam seeing the controller, for the first time, past the prototype stage and in one piece, all contained in a box.
Thanks for the photos Lily!