Larry Kasden at Ottauquechee Natural Resources Conservation District (ONRCD) developed an awesome system to store their Em2 stream tables and make them easy to share with other groups who want to use them.
They've been using their system for years with great success!
Larry headed up ONRCD's program when he created the design. Jon Bouton now heads it up. Larry, Jon, and Sue Greenall provided the details and photos that made this blog post possible.
Jon captured the essence of Larry's storage system—
Larry's storage idea is simple but brilliant. I really appreciate that everything has a place. That's especially valuable when lots of middle school teachers, many with little experience with river flumes and very full schedules, rent and use the stream tables in their classrooms. We want teachers to focus on actual teaching instead of worrying much about logistics. The bins, cases and storage frame also make checking to be sure everything is there and ready to go easy. And bits and pieces don't end up lost or damaged in storage.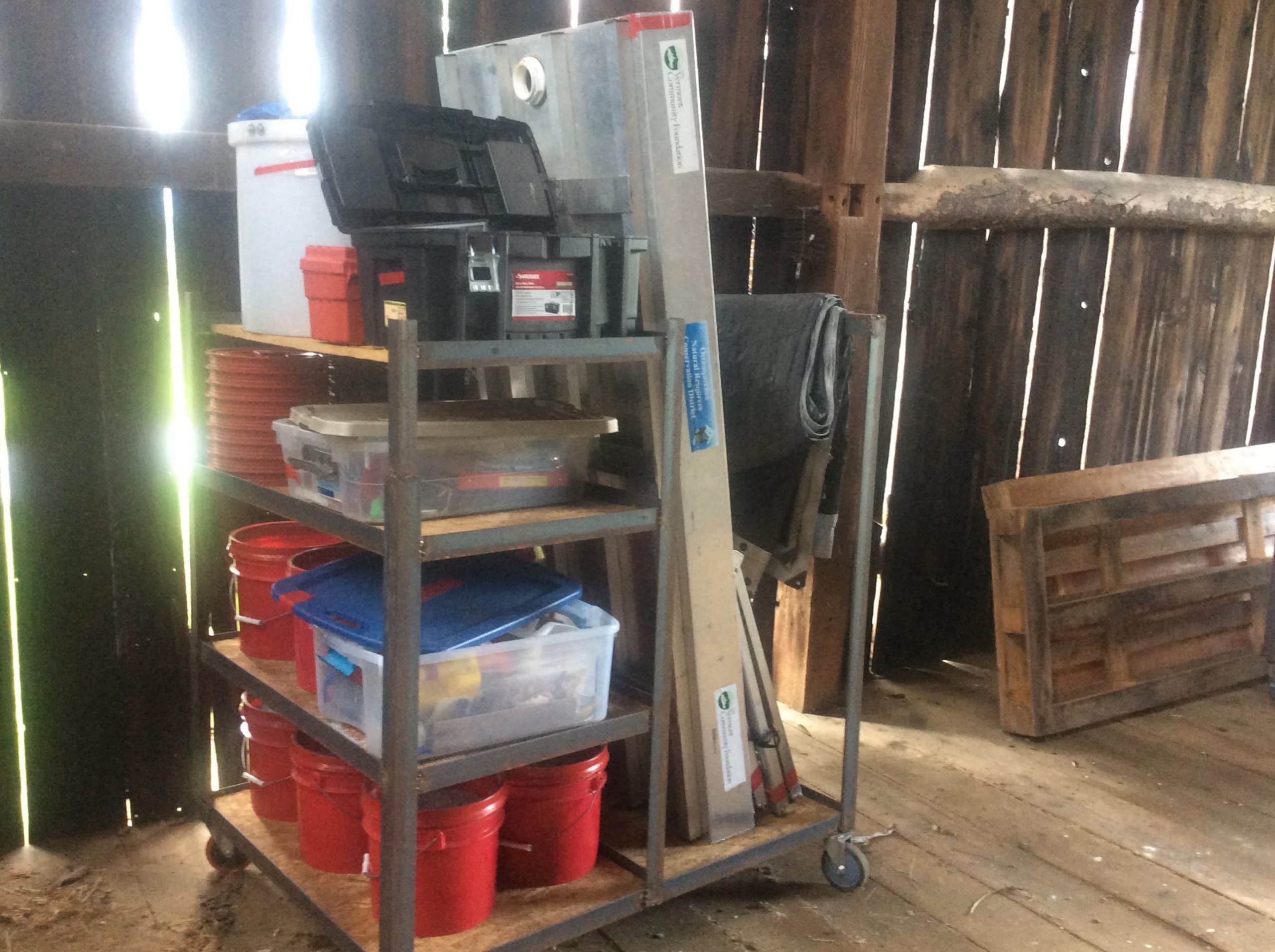 A couple of plastic toolboxes hold the controllers and pumps. Laminated photos of what goes in each toolbox are included in each toolbox. The red toolboxes you see are what we at Little River send with our stream tables.
Instead of using the 5-gallon buckets our stream tables come with, they use 3-gallon buckets so they are lighter. They also have screw tops for the buckets instead of the pop on and off lids the 5-gallon buckets have. I like how they use different colors for the buckets that belong to each of the stream tables. That way you don't have to count to keep track of how many buckets each stream table should have.
A couple of cheap covered plastic storage bins store and separate the dry notebook/owners manual and dry tools and wet manipulatives.
Larry also welded frames on casters for holding everything so each table is stored separately and is easy to wheel around a garage floor.
Other fun stream table hacks
At some public demonstrations, ONRCD lines the inside walls of the table with 10-12 inch plexiglass to make it less likely that observers will put their hands in the water to play with the sediment. If many, many people come by to see the stream table and put their hands in, all the disturbances can make it difficult to model a specific river process.
They splice into the water hose a turnoff valve and a second hose with a sprinkler head. This allows them to demonstrate the effects on the sediment of rain run-off from impervious surfaces. They empty the water by attaching a long garden hose to the adapter and pump the water outside.
Thanks to Larry, Jon, Sue, and everyone else at Ottauquechee Natural Resources Conservation District! And thank you to everyone who uses their Em2 stream tables!

If you have any stream table questions or ideas for hacks you'd like to collaborate on with us at Little River, please reach out using the contact form at the bottom of the page.